Connected Insurance
We create connected solutions that reduce risk, lower claims costs, improve customer service, and increase engagement.
Improve Your Book of Business
Improve your book by identifying, engaging, and rewarding safe drivers.
Keep Customers Engaged
Our custom-built DriveWell app provides drivers with direct and easy-to-follow feedback to improve their driving. The app is user-focused to deliver an engaging experience that gets drivers excited about their improvement and eager to continue engaging with the program.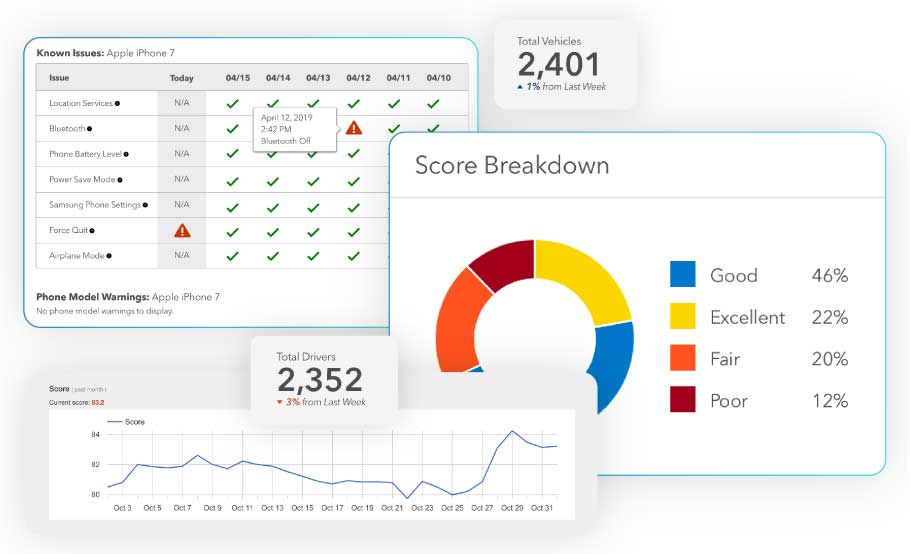 Innovative Risk Segmentation and Pricing
CMT is empowering insurers to use causal and controllable variables in their auto insurance rating. This empowers policyholders to have more control over their insurance premiums, and incentivizes them to drive safer.
Meet Customer Demand
Drivers worldwide have shown interest in telematics-based insurance products.
0%
of drivers worldwide said they would sign up for connected insurance if offered.
0%
of drivers worldwide said they would sign up for a try-before-you-buy telematics-based policy.
Reduce Claims Costs
Our Claims Studio features instant crash detection and detailed crash storyline to get claims started quickly and accurately.
Know What Happened Before They File
Claims Studio uses telematics and artificial intelligence to reconstruct the true story of a crash, creating a data driven narrative to accelerate the claims process. Access key details like speed, severity, vehicle impact location, and exact location right away to spend less time collecting information and more time accurately assessing loss.
Reduce Risky Driving Behavior
After 30 days using our platform, the top 30% of drivers achieved:
0%
Reduction in phone distraction
0%
Reduction in hard braking
We partner with industry leaders to build apps that improve claims, engage customers, and reduce risky driving.
We had a number of problems we were looking to solve when we looked to partner with a telematics providers. We were looking at innovative, different ways that we could offer products to our consumers that really align with our vision of making the roads safer… It was very clear that CMT had lived up to their reputation of being [number] one in North America, and it was great to be able to commence a partnership with the organization.
-Ben Prangell
, Director New Product Operations Insurance Australia Group